Post by Helmut83 on Jul 12, 2015 19:10:46 GMT
Hello, guys! Last time I picked something really easy like the Beatles' "Abbey Road". Now I'm going to go to the other extreme and pick something really challenging, at least in one particular aspect.
First of all, I'll make use of two options Jim gave us: 1) Featuring a set of songs from a band instead of an album. It's highly unlikely that anyone will ever come up with one particular album of theirs, so the idea is to have a contact with the band, not with an album. In any case, their musical leit motiv has remained pretty consistent through their extensive career. 2) Music in a language other than English. Regarding this point, it's not Spanish as some of you may have suspected. Spanish is too easy. How about some Swedish?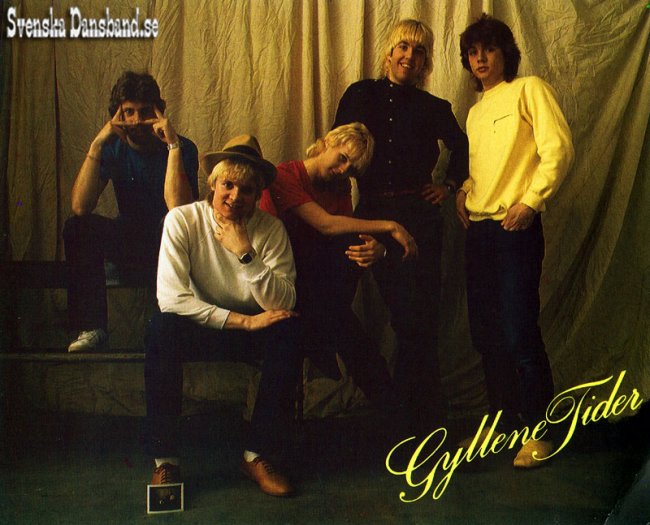 From the land of the Vikings comes
Gyllene Tider
("Golden Times"), a 5-member band formed by Per Gessle (lead voice, guitar and songwriting), Mats Persson (lead guitar and songwriting), Anders Herrlin (bass), Micke "Syd" Andersson (drums) and Göran Fritzon (keyboards). The band was formed in 1976 in Halmstad and dissolved in 1985, with several temporary reunions after that. In 2004 their concert in Gothenburg set a record audience for the country with 58,984 fans in attendance.
About their musical style and their lyrics, Wikipedia says: "
The band is well known for its catchy choruses and light-weight lyrics about summer, teenage love and life in a small town in Sweden
".
en.wikipedia.org/?title=Gyllene_Tider
I'm going to provide you with two links for each song, the first one with a good live version and the second one with the studio original version of the song so you can choose.
I'd recommend you the live versions
because Gyllene Tider's music is not so much about the details but about the strength, vibe and energy, and they are fantastic playing live (plus you can watch images while listening), but of course it's up to you. If you can, mention in the review if you opted for the studio takes or the live versions.
01- Det är över nu
[It's over now]
LIVE
02- Solsken
[Sunshine]
LIVE
03- (Hon vill ha) Puls
[(She wants) Pulse]
LIVE
04- När alla vännerna gatt hem
[When all friends have gone home]
LIVE
* up to minute 4:30
S
05- (Dansar inte lika bra som) Sjömän
[(Don't dance as good as) Sailors]
LIVE
06- Sommartider
[Summertime]
LIVE
07- Kung av sand
[King of sand]
LIVE
* only Per Gessle, Matts Persson and Anders Herrlin with other musicians, not the full GT formation
08- Min tjej och jag
[My girl and me]
LIVE: I couldn't find a complete live version of the song (they always play half of it).
STUDIO
09- När vi två blir en
[When us two become one]
LIVE
10- Juni, Juli, Augusti
[June, July, August]
LIVE