Post by unomusette on Feb 2, 2017 22:28:33 GMT
Ooh, sounds fab, and not too far from Venice as it happens...popcorn at the ready? Then we'll begin..
Time for the third exciting Venetian outing, which shall recount the tale of our fun and games after dark...but first, it's about time for a nice winged lion, the symbol of the city which you see absolutely everywhere including on the flag. I have loads of pics of them so there'll probably be more in the 4th and final instalment, but here's a taster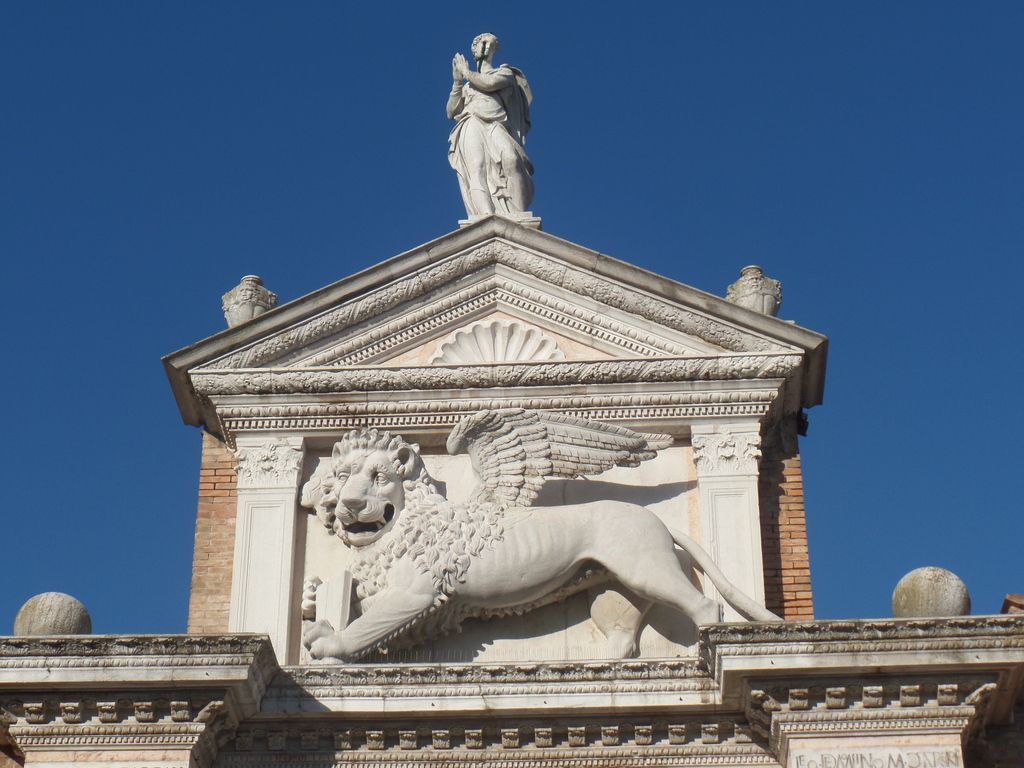 Now you're in the right frame of mind, let me introduce you to this unassuming bar known as Bacaro Jazz. We found it on the first day and every single time we passed it during daylight hours this little guy was cleaning the windows which was quite spooky.
Anyway, lured by its promise of Happy Hour we made sure we were there when it all kicked off. It was cheaper to drink at the bar so we struggled onto ridiculously high stools, hung our coats and hats on the handy hooks just underneath and ordered two beers which looked something like this
We'd not been there long before the star of the show turned up - Mario, the most diva-esque barman there ever was. He strutted along the bar, eyeing us all with disdain and acting like the king of the jungle. All the staff could produce fantastic looking cocktails in the tiny space there but he was the best at it and he knew it. He spent his time busily doing that, and in between he struck thoughtful poses or sniped at the apprentice bar guy in a waspish way. Once, apprentice bar guy dared to answer him back a bit and he swept up to our end of the bar and literally hissed like a pantomime villain, he was fantastic. We wisely kept quiet, knew our place and just spoke to order beers but he must have known how enthralled we were.
Anyway, being a jazz bar we did expect to hear music of that sort, but (and this is prophetic) on the third day we slithered in to see they were yet again playing the same Candy Dulfer concert on the TV. Still, Mario was so entertaining it didn't really matter. However, when it finished, I looked up to see what we were getting next, and who did I see beaming down at us? Only the Lord Dame himself!
Well, what a turn-up. It was the Zoom DVD so I had to instruct Mr M to avoid capturing TVW. In another pic he sneakily managed to snap Mario himself, good thing he wasn't looking.
Note the enormous bowl of sangria in the foreground, they kept topping this up with all sorts of stuff including a fiendish looking jar of mixed spirits which was kept under the bar, its contents strictly secret. Although we thought Mario wasn't listening, he must have heard us getting excited because up next came yet more ELO, I believe it was a version of Livin' Thing but I'm prepared to be corrected.
Throwing caution to the wind I jabbered excitedly to Mario about how ELO are one of me faves and he spoke his first proper words to us, along the lines of "Eeelectic-a Light Orrchestrrra - nineteeen seeeventy seeeex!" Well, we knew we finally belonged. He even started treating us to some of his strange little grins which you never knew if he meant or not, and producing fresh rounds of beer bottles for us without even being asked. Happy days (or rather, nights)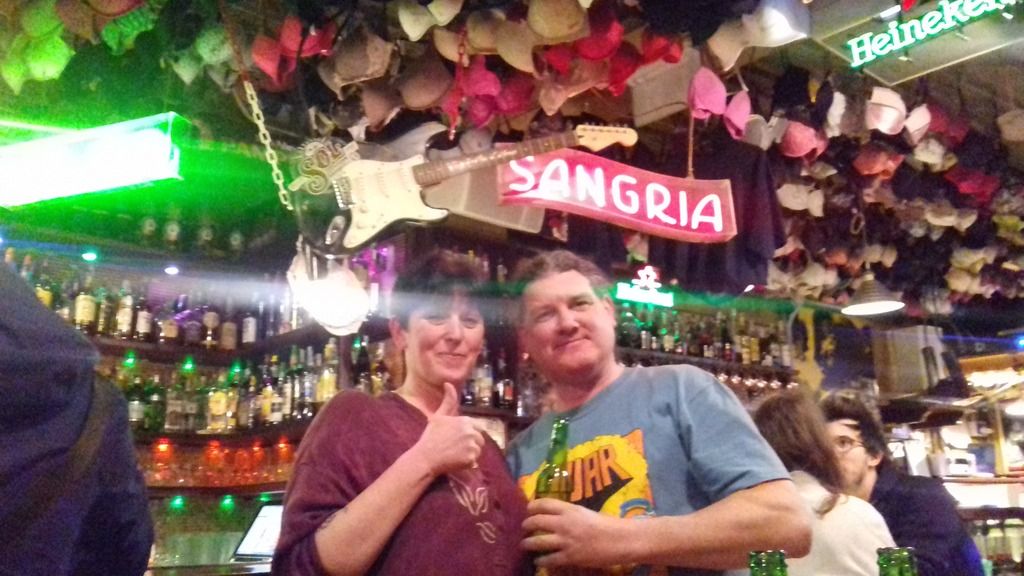 Looking closely at the last pic, you may notice the interesting decor, especially up in the ceiling. By now we were getting to know all the regular barflies too and actually sat next to a very merry London gal as she skilfully removed her bra from under her clothes. The ritual then was to be given a tub of marker pens so you could write a jolly message, this she did before Mario bore the trophy away between thumb and forefinger, wearing an old-fashioned look. Well, she had been there all day (ew). The next night she barely remembered it at all
So, what else was I to do? I already had a candidate in mind, romantically themed and really a bit tight for me so the perfect bra to leave behind to be remembered by. Even before Mario dug up some Muse for the TV (what a man!) I'd made my mind up. Hence, on the last but one night, we ordered our usual two beers and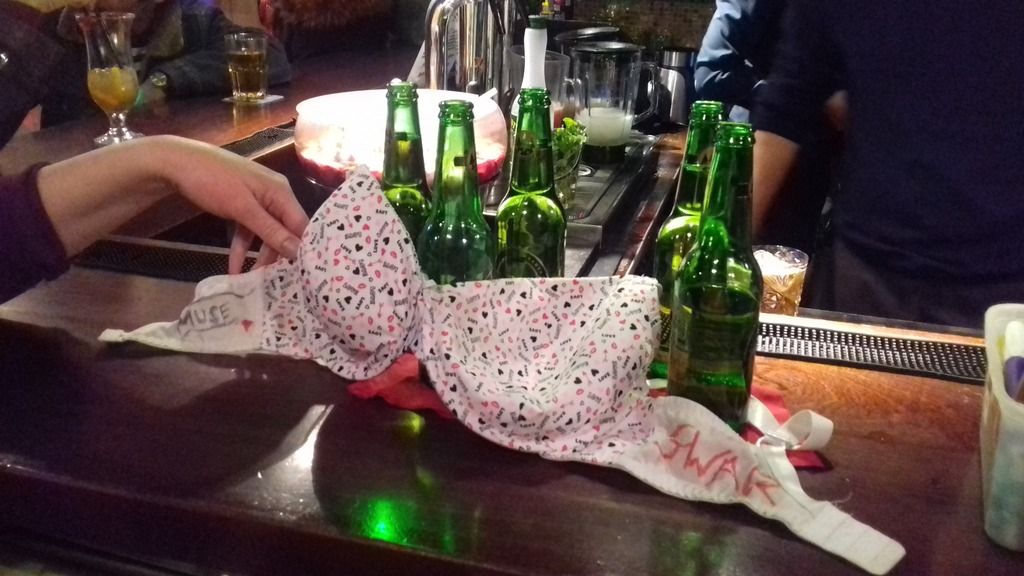 And on the inside, in perfect (ahem) Italian (it's suppsed to mean "I don't come from England, I'm from Wales" or something like that)
I swear Mario sidled up especially to get in that one. And then, the million dollar pic!
A bit of fiddling and then the magnificent display, I was so proud, sniffle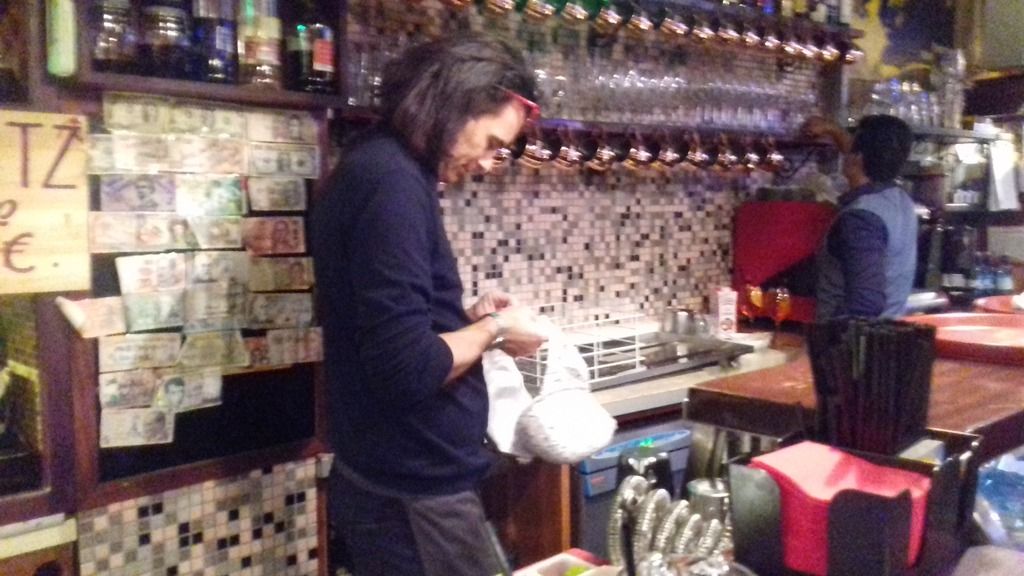 The next night it was up in the ceiling where it shall dangle forevermore, see if you can spot it. It's right by the front door, so if you ever visit it should be easy to identify.
Well it was such a momentous occasion we decided to splash out on a cocktail, and it was still Happy Hour so double whammy. Having watched them all being made over the week we plumped for strawberry margarita (on the left) and pina colada (on the right) It was really clever the way they did the red flame effect, a puddle of something gooey in the bottom of the glass and then drawn up the sides expertly with a straw, followed by the cocktail which was frozen and whizzed up in a blender. Scrumptious.
It was properly sad to leave on the last night, we'd met some brilliant people, been thoroughly entertained and felt we'd joined an exclusive club. We even had a hug each from Mario when we left (although he probably grimaced over our shoulders, I'd expect nothing less)
However, after all that beer I would soon be resembling this tasteful rendition of a tourist, seen on a Venetian wall during the stay...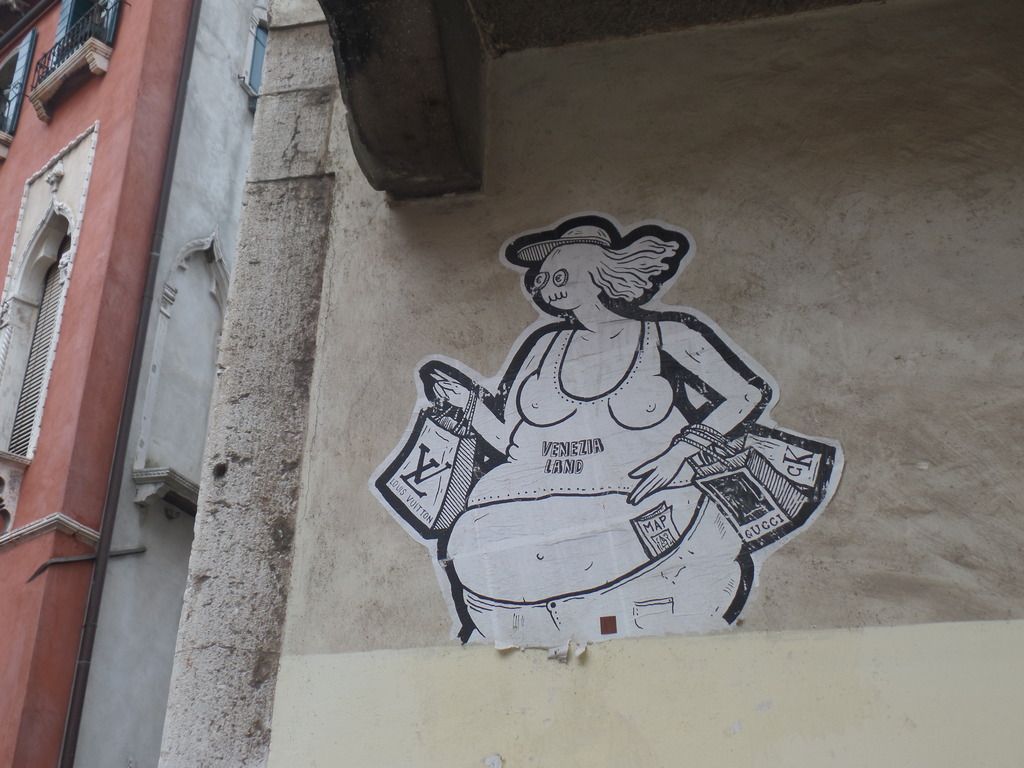 And rather than leave you with that image, here's a dignified winged lion from the Italian Industrial Revolution
Final instalment soon, with exciting pics of bits and bobs that haven't fitted in to Parts 1 - 3
Saluti!